Deli Paper
Design Your Own Custom Printed Deli Paper that's Greaseproof In 3 Easy Steps!
Create your own branded greaseproof deli paper in our design tool, or upload your own graphic design art. We will do the rest and deliver your order upon completion! Available in white or Kraft paper using 1 color, 2 color, and 4 color printing process.

STEP 1
UPLOAD YOUR LOGO
Upload vector image file –
.pdf, .png, .jpg, or .eps vector graphic.

STEP 2
DESIGN YOUR PAPER
Adjust your logo or image in the design
tool on the paper and design it.

STEP 3
SELECT PAPER CHOICES
Select paper size, print color(s), white or Kraft paper, and sheet quantity.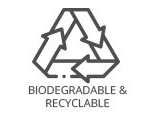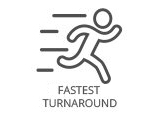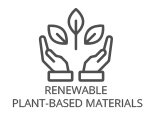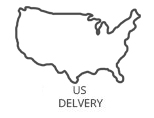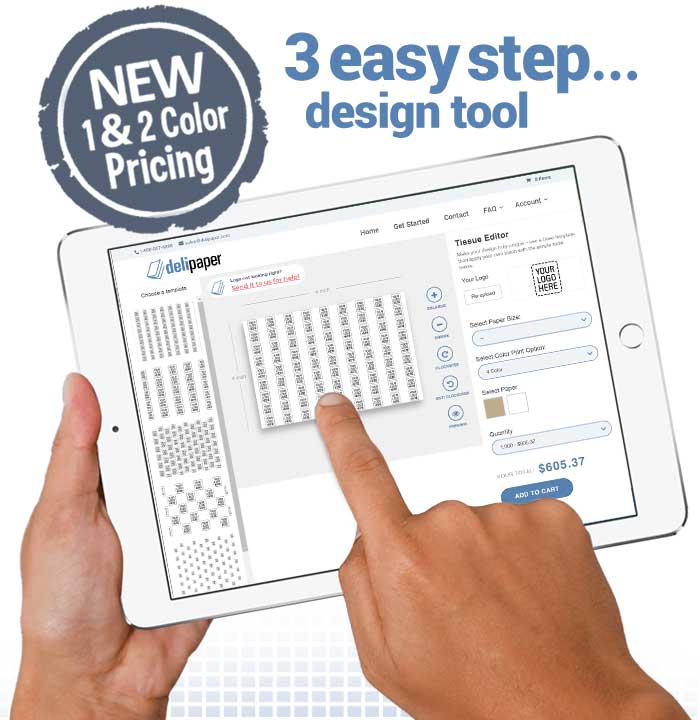 Why Greaseproof paper:
No art plate or setup costs
3-4 week delivery time
Free shipping to the US, Canada & Mexico
1-color, 2-color or 4-color process printing
Full ink coverage possible
Standard and custom sheet sizes available
White or Kraft brown paper stock available
Microwave safe for heating
Freezer safe for storage
100% compostable and recyclable
No graphics limitations for design and layout
US FDA, ISEGA, and HALAL certified
More on "Why Greaseproof Paper"
GET 10% OFF
*Use Promo Code: Spooky
1 Usage Per Customer
Expires: 10-31-2023
Deli Paper Printing Company News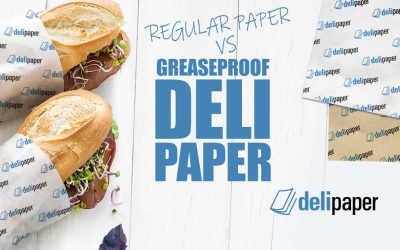 In the competitive landscape of the food industry, every detail matters when it comes to branding and customer experience. One often-overlooked element is the choice between custom printed greaseproof deli paper and regular deli paper. In this article, we'll explore...
read more
Certified safe for direct food contact
Designed for both hot and cold foods
It's a multi-purpose paper
Top quality high wet strength
Stops oily food applications
Made naturally without any coatings
Oven, microwave and freezer safe
Vegetable based inks used for printing
Greaseproof Deli Paper Sizes!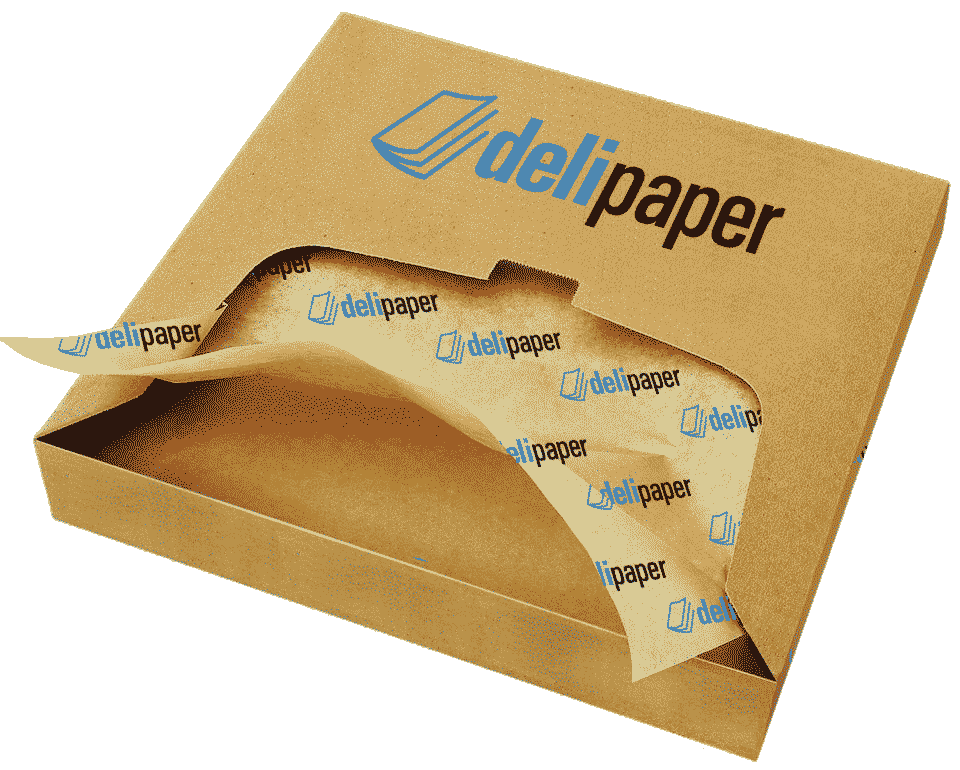 20″ x 13″
20" x 12"
20″ x 10″
18" x 13"
18" x 12"
18" x 10"
17" x 11"
16" x 12"
15″ x 13″
15″ x 12″
15″ x 10.75″
15″ x 9″
14" x 12"
13″ x 13″
13″ x 10″
13″ x 9″
13″ x 6″
12″ x 12″
12″ x 10″
12″ x 9″
12″ x 8″
12″ x 6″
10.75″ x 10″
10″ x 10″
10″ x 8″
10″ x 6″
10″ x 5″
9" x 9"
9″ x 6″
9″ x 5″
8.5" x 11"
8" x 8"
8" x 6"
8" x 5"
7" x 7"
7" x 5"
6″ x 6″
6" x 5"
5″ x 5″
4″ x 4″
Check Out Our Latest Work
Let's Start Your Project
Together!
If you have any comments, questions, or concerns regarding our printing process, artwork files, pricing, order quantities, plus more, please give us a call or email us.
Questions, Call: 1-800-957-4286
Expanding your Brand!
Custom Printed Greaseproof Paper – Food Service Greaseproof Paper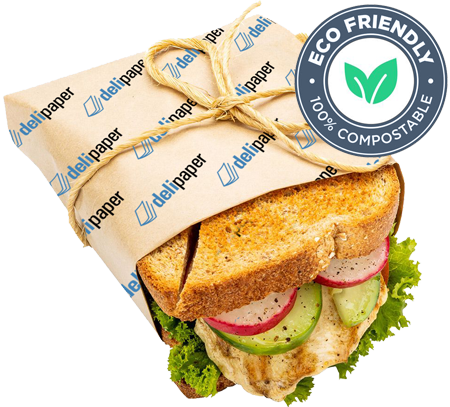 Deli Paper stands as the premier destination for all your custom printed food paper needs. Embark on your journey by clicking the "Get Started" button, where you'll wield our intuitive design software tool to craft your very own signature greaseproof paper. This is your canvas, and you hold the creative brush. Upload your logo, let your imagination run free within the design tool's embrace, pick your preferred paper hue and dimensions, then proceed to checkout—it's as straightforward as that. From this point onward, the baton is in our hands, and we shall orchestrate the production of your custom printed greaseproof paper to culminate in a timely delivery at your doorstep.
Our greaseproof paper boasts biodegradability, a testament to our commitment to environmental responsibility. We offer this exceptional product in two variants: the 38gsm pristine white and the 40gsm rustic Kraft brown paper. Its primary function is to cocoon and safeguard your delectable treats, containing the unruly embrace of oils and greases. In the culinary and baking realms, our greaseproof paper emerges as the quintessential accompaniment to food trays, wraps, and basket liners, among its multifarious applications.
This isn't merely about practicality; it's also about presentation. Your food deserves to shine, and our greaseproof paper ensures that, by preserving its appearance and, most critically, keeping those mouthwatering flavors intact while triumphing over the grease.
Greaseproof Paper is leading a revolution in the food service paper domain. We've left behind the era of monotonous single and dual-tone logos. Now, businesses like yours can metamorphose their food service paper into a veritable masterpiece. Our greaseproof paper elevates your business's visual appeal and presents your brand in an entirely new light. Whether you opt to chart your creative path or seek guidance from our accomplished graphics department, the result is awe-inspiring.
Consider greaseproof paper as your trusty ally in the face of fried foods, oily delights, hot or cold dishes, tantalizing sauces, hearty platters, and much more. It's an unparalleled sheet of versatility. Customize it with your logo, and in the span of a mere 3-4 weeks, witness it arrive at your doorstep, primed to enhance your culinary presentations.
If you haven't yet embraced the wonders of Greaseproof paper, allow us to usher you into a new realm of culinary excellence. Your journey begins now—let us be your guide – get started today!